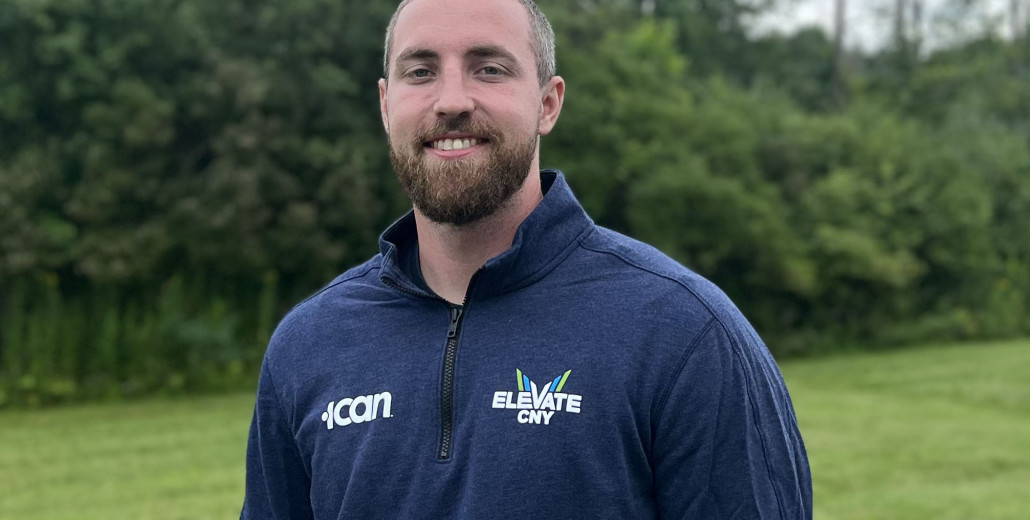 Employee Spotlight - Ryan Schmadel
August 28, 2023
Employee Spotlight - Ryan Schmadel
In November 2022, ICAN opened Elevate CNY Sports Complex on Route 233 in Westmoreland and since then, has welcomed thousands of young athletes, students and more through its doors for a variety of practices, games, camps, special events, field trips, birthday parties and more! Our staff has been a driving factor in its success and a big reason why coaches, parents and kids have a great experience and return again and again to our facility!
Our next staff spotlight is Ryan Schmadel, our Assistant Manager.
MEET RYAN

This role is the perfect fit for Ryan - he loves working with youth in general, but especially when it revolves around athletics. His goal is to provide youth the same incredible opportunities and experiences in sports he had while growing up.
JOINING THE ELEVATE TEAM

Before joining the Elevate CNY team, Ryan had heard many positive things about the ICAN culture and work environment from those he knew who worked there. Ryan shares that he is very appreciative to work with staff comprised of a seasoned, caring management team along with a solid group of compassionate young adults who love to work with youth. Together, everyone provides a safe and welcoming atmosphere where youth can come, have fun, and experience all the great things that come along with athletics.
As one of the first Elevate team members, Ryan played a vital role in getting everything set up and running for opening day. He pointed out that it was a great idea to reopen a sports complex in the Westmoreland area, as it is a great location and there is a need for indoor facilities in our four-season area. He is also excited that Elevate continues to improve, expand and develop programming offered to the community.
A HISTORY OF BEING ON WINNING TEAMS!

Ryan played both basketball and baseball throughout high school in Oriskany, New York and was part of the team that won the 2016 New York Class D state title. He continued playing basketball at SUNY Cortland, where he received his degree in Business Economics and Sports Management and led the Red Dragons to the SUNYAC Tournament all four years as captain.
After college, he was the varsity boys' basketball coach at Oriskany High School and in January 2023, Ryan joined Hamilton College Basketball as Assistant Coach.
Throughout the season, Ryan roots for and cheers on the Boston Celtics, his favorite team!
OUTSIDE OF ELEVATE

When he has free time, Ryan can be found on the court playing a round of basketball (surprise, surprise!) or on the course playing golf. He also enjoys the beauty of landscaping – seeing a project through and a property transformed is very rewarding and for many years, Ryan has run his own landscaping business. Most importantly, he always makes it a priority to spend quality time with his family and friends.
COME VISIT ELEVATE (AND RYAN!)

Next time you're at Elevate CNY, you'll be sure to see Ryan out there working directly with the youth - running camps and leagues, teaching techniques and making sure all are involved and having a great time!