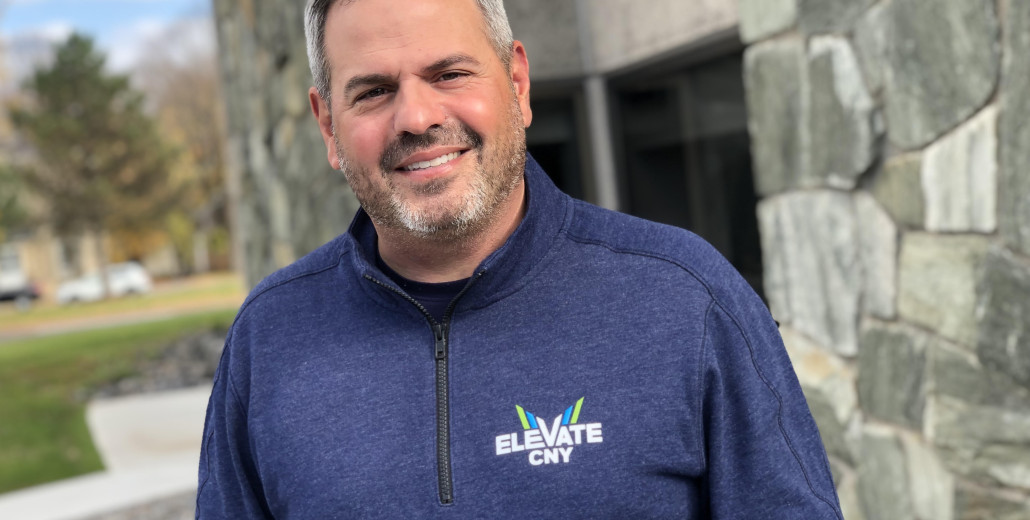 Employee Spotlight - Richard Diliberto
August 18, 2023
Employee Spotlight - Richard Diliberto
In November 2022, ICAN opened Elevate CNY Sports Complex on Route 233 in Westmoreland and since then, has welcomed thousands of young athletes, students and more through its doors for a variety of practices, games, camps, special events, field trips, birthday parties and more! Our staff has been a driving factor in its success and a big reason why coaches, parents and kids have a great experience and return again and again to our facility!

We will be highlighting staff members in the coming weeks so you can get to know them better!
Meet Rich Diliberto, Sports Manager at Elevate CNY
He is the perfect guy for the job - he is passionate not just about sports, but helping youth as well! Rich shares that working with kids every day is the number one highlight of his job and seeing them pursue their passions and making an impact on their lives through sports and recreation is worth its weight in gold.

Why joining ICAN just made sense for him
Joining ICAN was a no brainer for Rich. Coming from an intense corporate background (he was a Hall of Fame salesman for accomplishing multiple years of over $1 million in sales), he always felt on edge over meeting aggressive sales quotas and was ready to make the switch. Talking with peers who worked at ICAN and hearing about the family-style culture inspired him. He says ICAN truly cares for their employees and offers a very nurturing environment. Rich also has a vast network of colleagues, coaches, friends, vendors and more that he has built over the years who help advance the mission of ICAN and Elevate in a variety of helpful ways.
For the Love of Sports, Animals and Family
Rich grew up playing both baseball and basketball. Outside of his role at Elevate, he serves as the Utica University Assistant Baseball Coach. Sports are a big aspect of his life – you will find him cheering on his favorite teams any given season: the New York Yankees, Miami Dolphins and the Los Angeles Lakers. He also enjoys collecting sports cards of his favorite players and creating sets.
Some things not many people know about Rich is that he is a huge animal lover, has a green thumb and enjoys gardening. He loves being near the ocean and his ideal weekend is spent with his family and friends on the water, or around a campfire.
Leading Change in the Local Sports Facilities Realm
"Elevate's primary focus without a doubt is the young folks who come through our doors." Rich shares. "Schedules are not jam packed where the atmosphere feels rushed and hectic, but rather we are intentional with our time and fields. We spend time with coaches to talk through their needs and what works best for their young players."
Elevate offers an array of sporting options, hosts thoughtful and skill enhancing camps, produces unique events and makes everything we do fun, safe and educational! The goal is for every kid to gain new experiences, improve and chase their dreams.
Also, with a direct connection to ICAN – a human services non-profit that restores social, emotional, mental and behavioral health and well-being to individuals and families – access to service is increased as the stigma of mental health decreases. Sports, great coaching, a supportive and consistent environment, teamwork and goal setting all provide protective factors in a young person's childhood and help put them on a road to success.
Come Visit Elevate (and Rich!)
Chances are, if Elevate is having a special event or camp, or if you need to rent space for practices or games, Rich will be the one on the other end of the phone! Give him a call today or stop by the facility to see it for yourself!