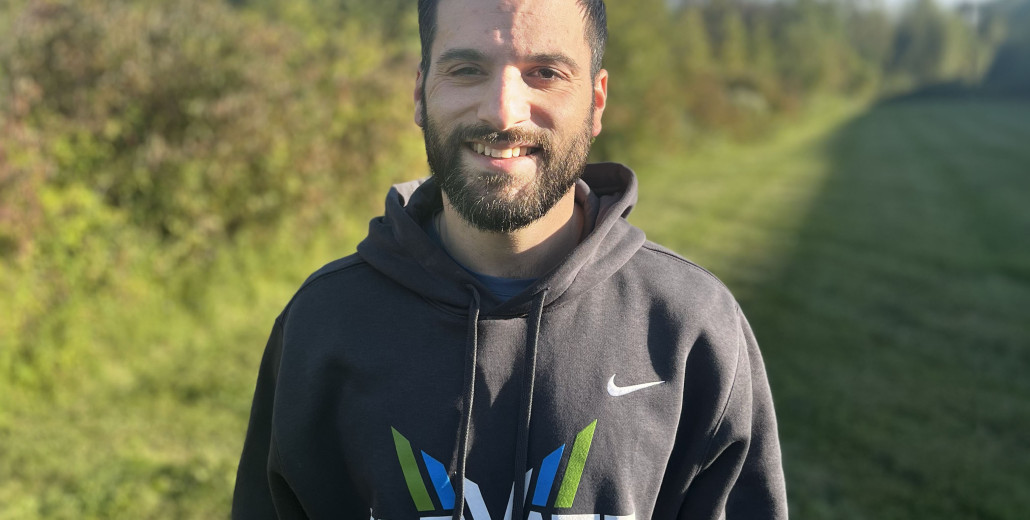 Employee Spotlight - Grant Calogero
October 3, 2023
Employee Spotlight - Grant Calogero
Our staff has been a driving factor in its success and a big reason why coaches, parents and kids have a great experience and return again and again to our facility!

Up next in our spotlight series is Grant Calogero, Sports Team Member at Elevate CNY, also commonly referred to as Elevate's Resident Soccer Enthusiast (his favorite sport!).

Grant joined the Elevate team in November and is the perfect fit for the role - his passions include sports and helping others. His goal is to transform lives in our community through sports, fitness and encouragement. Throughout his career, he has been able to guide others towards paths where they can fulfill their goals, assisting with college, and pursuing their dreams.

THE PERFECT MATCH

Joining Elevate was an easy decision for Grant - he loves sports and has the desire to help others become the best version of themselves. He says he wanted to "be a part of the best sports facility in CNY."
"The people and team at Elevate and ICAN are what sets the facility apart from the rest", Grant said. The team creates a special environment for all that come to Elevate. Consistently spreading positivity in hopes of inspiring and creating the best experience for youth.
BIG TIME SPORTS GUY!
Seriously though... he loves sports!! In college he played soccer and lacrosse at both Mohawk Valley Community College (MVCC) and SUNY Polytechnic Institute. He says it was a grueling process being a full-time student and playing fall and spring semester sports but has no regrets - the time spent playing and improving his skill was invaluable. Upon graduating, he continued playing recreationally with the United Elite Krajisnik Football Club in the United Premier Soccer League.
For the past seven years he has been with MVCC's Men's Soccer team as the Assistant Coach, as well as the head coach of the United Elite Krajisnik FC's UPSL D1 semi-pro team for two seasons.
Not only is he involved in sports, he also loves watching and supporting his favorite teams. The Denver Nuggets, New York Giants, New York Mets, Florida Gators and Inter Milan. When he watches the Premier League he makes sure to root for Liverpool.
His love of sports is no surprise - it runs in his family! His grandfather was a scout for the Philadelphia Phillies in the Central New York region (baseball fans - how cool is that?!).
GRANT'S FREE TIME LOOKS LIKE…
Outside of coaching, playing soccer and working, Grant loves to spend time with his family. His favorite thing to do is to be at camp, have a large breakfast, go for a kayak excursion and return in time to catch the NFL Redzone with family.
Some other activities Grant enjoys are being in nature, listening to music (all genres!) and volunteering in the community. He also is a collector of sports cards and runs a memorabilia business. Fun fact - that is actually how he met Rich Diliberto, Sports Manager at Elevate CNY - they both share a passion for collecting their favorite players and creating sets!
COME VISIT ELEVATE (AND GRANT!)
Stop by Elevate to meet Grant, and learn more about his energetic enthusiasm for sports, helping others and all of the things he does at Elevate!