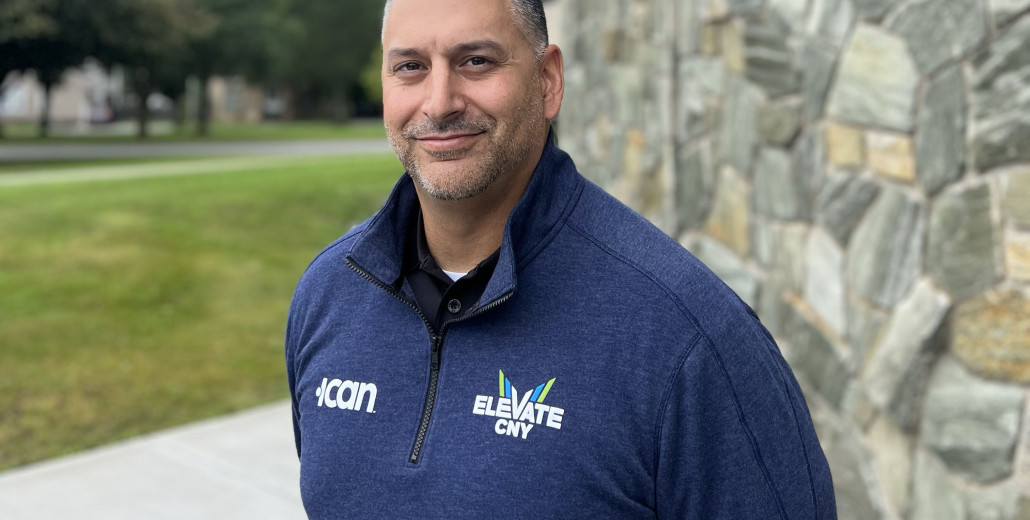 Employee Spotlight - Geoff Stewart
September 11, 2023
Employee Spotlight - Geoff Stewart
In November 2022, ICAN opened Elevate CNY Sports Complex on Route 233 in Westmoreland and since then, has welcomed thousands of young athletes, students and more through its doors for a variety of practices, games, camps, special events, field trips, birthday parties and more! Our staff has been a driving factor in its success and a big reason why coaches, parents and kids have a great experience and return again and again to our facility!
Meet Geoff Stewart, ICAN's Director of IPA Operations who also oversees the operations of Elevate CNY. (The IPA is ICAN's Independent Practice Association – a network of individuals and agencies committed to streamlining access to services to improve health and wellness to children, youth, and adults.)
When there were conversations about ICAN opening a sports facility, Geoff knew immediately he wanted to be a part of it. He has a love of sports, working with youth and had the capacity to successfully oversee it. He reached out and expressed his interest and the rest is history. He loves the diversity of his work, the people he works with and switching gears between ICAN, the IPA and Elevate.
HIS JOURNEY TO ICAN
In high school, Geoff played baseball and football, and continued playing throughout his college career at Utica College. He majored in history and minored in psychology with a goal of becoming a special education teacher.
In 2012, Geoff joined ICAN as a Service Coordinator. He is proud that he has been able to do many different things during his time here, gaining experience and growing. In 2018 he became the IPA Operations Manager then Director of IPA Operations, where he oversees the vast network of referral partners and service providers that assists ICAN every day in Keeping Families Together.
His primary goal for himself while overseeing the IPA and Elevate is to constantly improve his leadership skills so the individuals he oversees are happy at work and can be successful in their roles.
OPPORTUNITY FOR ALL THROUGH SPORTS
Geoff is excited that Elevate sets out to make it possible for everyone to experience athletics who has the desire to. With the facility's connection to ICAN – which models a culture of inclusion, empowerment and trauma-informed care – Elevate staff is able to create a welcoming environment for all.
Elevate's staff is phenomenal - full time management staff has decades of experience in sports (playing AND coaching), as well as extensive business experience. High school and college-aged part-time staff add to the experience by being relatable, bringing great energy and acting as role models to young athletes at the facility. Young staff members are also honing their own skills of, planning, leading, motivating young athletes and overseeing camps, academies and more.
Behind-the-scenes, Geoff works with his team to implement constant improvements and build custom programming for a variety of athletics and activities. They are also working on the creation of scholarship opportunities, partnering with school districts, adding other amenities and experiences and more.
He feels that "It's really awesome!" that Elevate has been able to attract such an extensive population to share their love of athletics.
WHO IS GEOFF OUTSIDE OF WORK?!
Geoff has been a big fan of the New York Mets for quite some time and enjoys watching and rooting for them during the season. Outside of his love of sports and dedication to his work, he loves to fish. He even equipped his pontoon boat with a trolling motor so he can fish and spend quality time with his family. Bow hunting and improving upon his woodworking skills also keep him busy. His time for woodworking has been a bit limited lately (opening a new sports complex and all!), but he has made custom desks and bunk beds for his kids.
Something not many people know is that Geoff loves to read - mostly historical fiction (his favorite author is Stephen Hunter) and also books on leadership. He loves learning and continues to improve himself to be a better leader for all programming he oversees.
He reads something from The Daily Stoic every morning, which offers insight into wisdom, perseverance, and the art of living. He reads the quotes from the book again every year because as you grow as a person, you can find new meanings.
Next time you are at Elevate, say hi to Geoff! He is sure to make you laugh with his side splitting dad jokes!